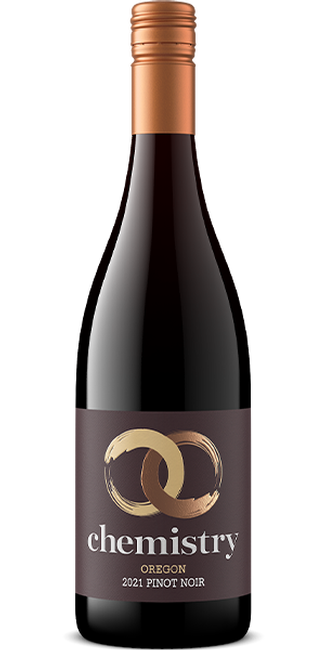 2021 Chemistry Pinot Noir
WINEMAKER'S NOTES
Dense crimson in hue, this wine begins with a layered approach of dark red fruits and aromatic woods. The palate is broad and silky with gentle, ripe tannin, raw cocoa and a taunt minerality. Closing with an elegant finish, the wine tapers to graceful notes of raspberry and dark chocolate. Drink now through 2025.

VINTAGE OVERVIEW
The 2021 growing season was warmer than average in the Oregon, producing beautifully ripe fruit with vibrant flavors. A dry spring led to lingering rain showers during bloom, which reduced the yield in some blocks. Then, an abnormal heatwave spread across the state, with temperatures reaching as high as 115 degrees Fahrenheit. Fortunately, the fruit prospered as high temperatures occurred between bloom and véraison when berries were hard
and less sensitive to damage. Temperatures tapered off prior to harvest, with warm days and cool nights, which allowed the fruit to ripen at an even and slower pace. The resulting wines are balanced with focused flavors, stunning fruit, gorgeous vibrancy, and incredible aging potential.
Wine Specs
Appellation
Willamette Valley AVA