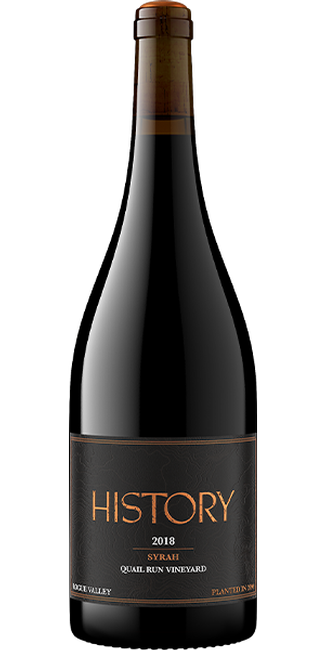 2018 History Quail Run Vineyard Syrah
WINEMAKER'S NOTES
The Quail Run Vineyard is a warm site in the Rogue Valley, growing Syrah that is full of intensity, complexity and depth. The color is stunning with a
dark purple hue. The palate is filled with savory notes of black olive and pepper, plum, sweet tobacco and flint. This wine aged for two years in barrel prior to bottling and will continue to age well for years to come. I understand if you don't have the patience. Pour yourself a glass.

VINTAGE OVERVIEW
The 2018 vintage was a cooler than normal year in Southern Oregon, but that resulted in a winemaker's dream of a harvest. The fruit came in showing darker and more robust characteristics, as well as sugars, pH and acidity close to perfection.