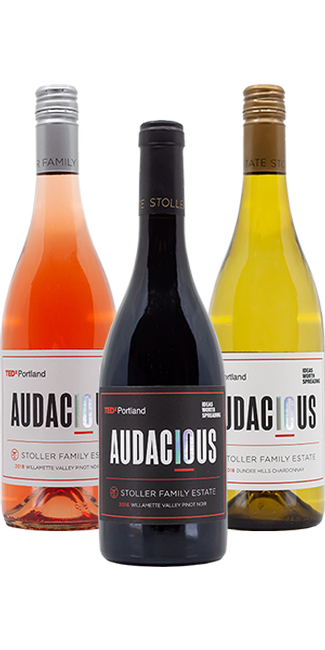 TEDxPortland AUDACIOUS Gift Set
We have partnered with TEDxPortland for the 5th straight year in celebration and support of their momentous Year 10 event.
The theme is AUDACIOUS - What dream is too risky to pursue? Boldness lives in achievement, and also in the attempt. Whatever your biggest idea, begin it now. Year 10 will be a triumphant celebration of our past, with an audacious look towards the future. Let's move forward unafraid and fearless in our efforts. We will be brazen, we will be brave, we will begin.
Enjoy this collaborative three-pack, where 30% of proceeds from all sales go to ticket scholarships that are supporting 500 attendees across 25 different non-profit organizations.
In the spirit of access and equity, we raise a glass to our collective community efforts!

All event details / tickets available at TEDxPortland.com
TedxPortland AUDACIOUS Gift Set

1 bottle - 2016 TEDxPortland Pinot Noir
1 bottle - 2018 TEDxPortland Chardonnay

1 bottle - 2018 TEDxPortland Rosé

$99 with Ground Shipping included.